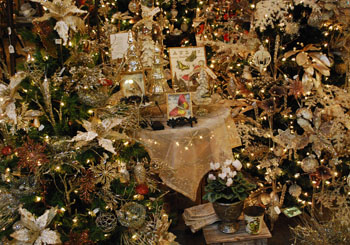 Discover the Natural Beauty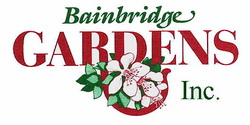 9415 Miller Rd NE
Bainbridge Island, WA 98110
206-842-5888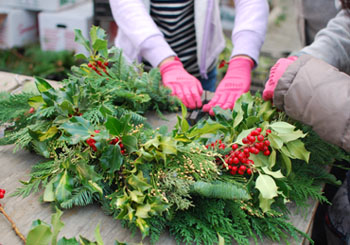 Christmas Trees Have Arrived!
Come in soon for the best selection.
In addition, we have many colors and shapes of poinsettias. Cyclamen are here.
And if you haven't purchased (or made) your wreath, this is a good time.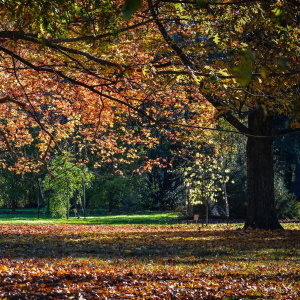 IT'S FEELING CRISP OUT THERE
Now that the smoke and heat are behind us, we can finally enjoy fall. As it gets cooler, plants slow down and divert their energy to winter survival. There are things we can do to help our plant friends prepare for the long winter and emerge in the spring extra strong:
Do a light mulching of your garden beds with compost. Compost helps add organic matter to soils that have been depleted by all the watering we needed to do over a long dry summer. This layer also protects roots from extreme cold and as we move into the next year, holds onto moisture and keeps the roots cool.
In general, you don't need to fertilize established plants at this time of year, because you don't want to encourage new growth that might be damaged by frost or a deep freeze. However, for established woody plants, applying Soil Science Bloom Driver or EB Stone Ultra Bloom encourages root and flower growth for the upcoming season, especially for lilacs, camellias, rhododendrons and fruit trees. These products have a low amount of nitrogen but high enough phosphorous.
It's a good idea to give your lawn one more dose of fertilizer before winter. This helps give roots a boost so your lawn comes back stronger in the spring. Pick a time that's not too rainy (or the fertilizer will just wash away) and before a deep freeze when the grass is dormant.
Before we get into our storm season, it's good to thin out tree and shrub branches that may be encroaching on your paths, driveways or above your house. As long as you're not removing more than 20% of the overall volume of your plants, you are not setting back their health. It's better to make those pruning cuts yourself rather than having the wind or wet snow do the trimming for you.
If you have veggies growing, such as leafy greens, you should consider covering them with a cold frame or cloche to extend the season.
Consider getting some Reemay or protective material (Harvest Guard) to cover your tender plants before a cold spell. Also, you may want to move potted tender plants to a protected area before such a spell.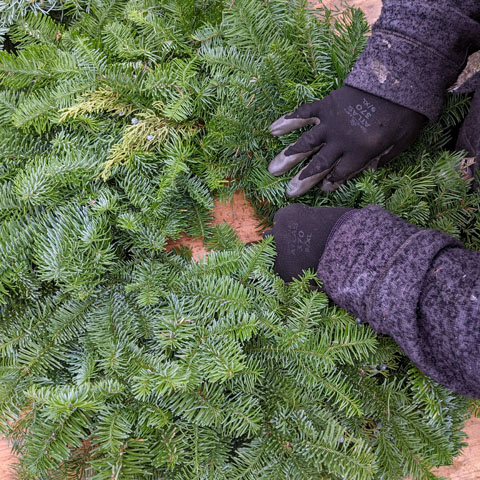 WREATH-MAKING:
AN ANNUAL TRADITION
November and December are fun months at Bainbridge Gardens. One of our favorite fall activities is opening up the wreath rooms for customers. It's fun to see customers create their own wreaths, and we know that a lot of customers enjoy the tradition of making a wreath for their friends and loved ones.
Here is a general synopsis of the wreathmaking procedure:
You must make a reservation! Some weekends fill up quickly. Call us to make your reservation.
Use of the wreath machines is free, but you will be required to purchase a metal wreath ring that fits our machines.
You may bring your own greens or purchase greens by the pound. We also have an assortment of ribbons and decor to finish your wreath. Again, you can bring your own.
Bring your own gloves and pruning shears. And a warm coat. The greenhouses are covered but not heated.
We are a UPS shipping station, so you can also send your wreath to a loved one.
Not all wreaths are round! You can also make a straight "wreath" for your mantle or tabletop!
Love a custom wreath but don't have the time?
We also make custom wreaths. You choose the size, types of greens, ribbon, etc.
Custom wreaths typically take 2-3 days, depending on demand.
Ask us about deliveries and shipping.
For more information about wreathmaking and to see photos of the process, click here.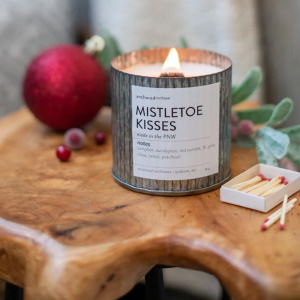 LIGHT UP THOSE DARK DAYS
It's dark outside.
Candles are a great way to add some cheer to dark rooms. Plus they make terrific gifts.
This year we're highlighting a few of the small business candle lines that Donna has brought in this year, so you can support our small business while supporting one of these small businesses.
Four Points Trading Co is a small family-run business dedicated to creating whimsical scents that evoke memories of your past. With names like Camp Fire or Dirt, you'll get not only strong memories, but quality candles that are 100% soy wax, paraben and phthalate free.
Rekindle creates hand-made candles in Monroe, Georgia. They are dedicated to using sustainable, domestically sourced components (for example, the wood wicks are sourced from Forestry Stewardship Certified lumber mills), and made with 100% soy wax.
Finding Home Farms is a Hudson Valley based family-owned business that produces organic maple syrup (which we don't sell) and also 100% soy candles. As is often the case, it started as a hobby then turned into a full-time business.
Anchored Northwest is a very small (19 employee) Spokane-based candle company that started out a few years ago when the founders tried to make candles on the dining room table. Their 100% soy wax candles come in a number of attractive scents and are phthalate-free.
Come on in, and check out these candle lines as well as many others (Vance Kitira, Paddywax, etc.).
SAFETY POLICIES AT BAINBRIDGE GARDENS
Face masks are optional throughout the nursery. We ask that if you are feeling ill and cannot wear a mask, please stay home and call us to arrange a contact-free delivery or curbside pickup. We continue to accept orders over the phone or by emailing us, but please note that these orders take 24-48 hours to fulfill.
Bainbridge Gardens is...
...a family-owned garden center located on a historic site on beautiful Bainbridge Island. Our six-acre nursery is well-stocked with large trees, native plants, unusual varieties of shrubs, bonsai, seasonal color, pots and garden art. We also have one of best selections of houseplants in the area. With plenty of parking and an extensive gift shop, Bainbridge Gardens is a popular spot for Islanders and out-of-town guests.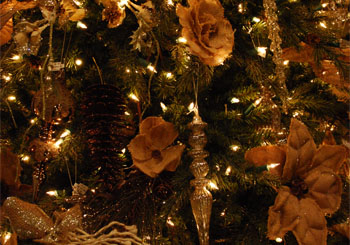 Fall and Winter Hours:
Monday through Saturday:
9:00am to 5:30pm
Sunday:
10:00am to 4:00pm
Closed Easter Sunday, July 4th, Thanksgiving,
December 25 & 31, January 1st.

For more information, email us at:
info@bainbridgegardens.com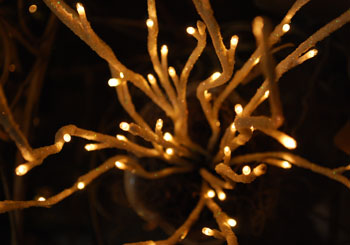 © Copyright 2022, Bainbridge Gardens, Inc. 9415 Miller Rd, NE, Bainbridge Island, WA 98110 206-842-5888. All Rights Reserved.