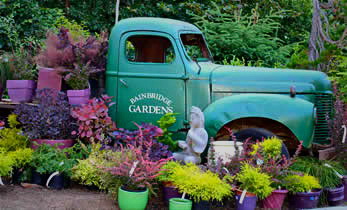 Discover the Natural Beauty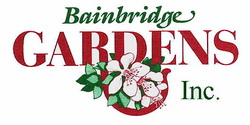 9415 Miller Rd NE
Bainbridge Island, WA 98110
206-842-5888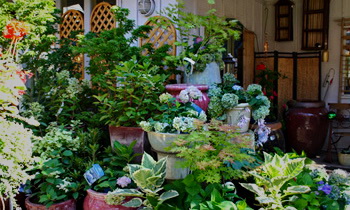 Fruit trees, berries, roses, cool-season veggies, and more are here!
See our current list of fruit trees here: 2022 Fruit Trees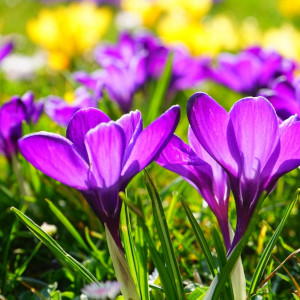 GET READY FOR SPRING

Yeah, we're not quite there yet, with snowstorms and chilly temperatures, but January is a good time to do some cleaning and preparation for the coming months.
Map out your spring garden. Decide what you want to grow in 2022. More edibles? Focus on pollenators? Do you need seeds? Our seeds are starting to come in. Plenty more in the next few weeks, however, we expect that certain varieties might sell out.
Check out your tools. Do they need sharpening, a little oil, a touch of paint, or maybe a replacement? Clean your tools too.
Rake up needles and leaves from your lawn, but overall, refrain from walking on frozen or snow-covered lawns.
Check those plants under the eaves of your house for water. Although many plants are dormant during the winter, they may still need some water. Water when the temps are above 40F and make sure your soil is draining.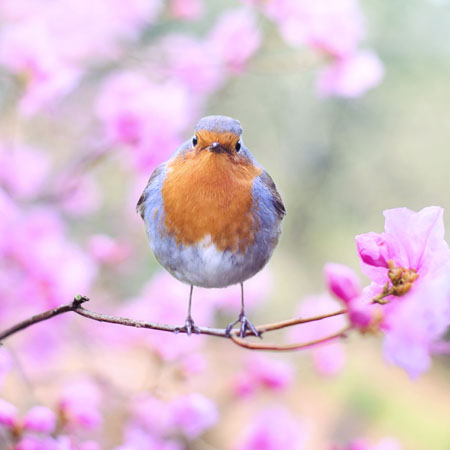 FEED THE BIRDS?

Our feathered friends are pretty good at finding food most of the year. Winter can be challenging however, especially when the ground is covered in snow and seed sources are unavailable. Here are a few tips for feeding the birds during the winter.
Place your bird feeders in areas that are safe from predators, but ensure that you can view them from your window so you can enjoy the birds!
We carry a variety of different seeds that attract a variety of different birds. Don't feed the birds human food. It's generally not safe.
It's vitally important that you keep your bird feeder free from mold and disease. Clean or wipe down your bird feeder with a dilute bleach solution every few weeks. Discard soggy, moldy, or sprouting seeds.
When you come in for bird seed, note the birds that are currently around your house. That will help determine what kind of seed to get.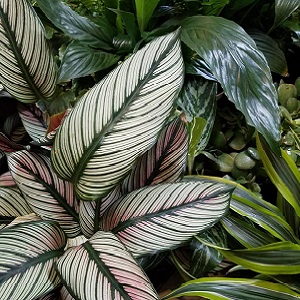 HOUSEPLANTS DURING THE WINTER
Although it's grey and dark outside, you can make your indoors bright and colorful with houseplants! With shorter, cooler days, less light, and less humidity, make sure your houseplants are comfy and happy during the winter.

Houseplants need less water during the winter, as they grow slower during the shorter days. Slower growth also means that houseplants need little to no fertilizer during the cold months. If you have flowering houseplants, you can give them a little boost of fertilizer though.
You may need to add a grow light or move some of your plants to a brighter location. Or move some away from spots that were warm during the summer but cool in the winter.
You may also need to add a humidifier as the indoor air is pretty dry during the winter.
Oh yes, don't forget to buy some new plants to give your existing houseplants some company. We are continuing to bring in new houseplants almost every week. Check our Facebook or Instagram accounts to see some of the cool things that Lisa finds each week!
COVID SAFETY POLICIES AT BAINBRIDGE GARDENS
Face masks are required indoors at the nursery (children under 5 are not required to wear a mask).
We will reevaluate our masking policy in a few weeks once we examine case rates. Thank you for continuing to mask.
We ask that if you are feeling ill or cannot wear a mask, please stay home and call us to arrange a contact-free delivery or curbside pickup.
We continue to accept orders over the phone or by emailing us, but please note that these orders take 24-48 hours to fulfill.
Bainbridge Gardens is...
...a family-owned garden center located on a historic site on beautiful Bainbridge Island. Our six-acre nursery is well-stocked with large trees, native plants, unusual varieties of shrubs, bonsai, seasonal color, pots and garden art. We also have one of best selections of houseplants in the area. With plenty of parking and an extensive gift shop, Bainbridge Gardens is a popular spot for Islanders and out-of-town guests.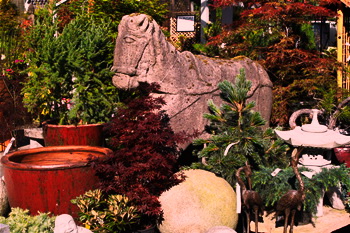 Fall/Winter Hours:
Monday through Saturday:
9:00am to 5:30pm
Sunday:
10:00am to 4:00pm
Closed Easter Sunday, July 4th, Thanksgiving,
December 25 & 31, January 1st.

For more information, email us at:
info@bainbridgegardens.com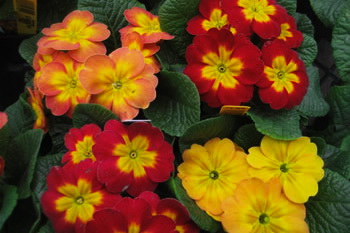 © Copyright 2021, Bainbridge Gardens, Inc. 9415 Miller Rd, NE, Bainbridge Island, WA 98110 206-842-5888. All Rights Reserved.