Fall hours: Mon-Sat 9:00am-5:30pm, Sun 10:00am-4:00pm
Cut trees are here, come in now for the best selection.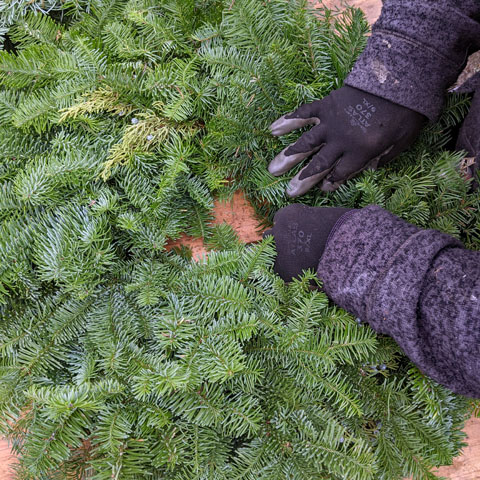 WREATH-MAKING:
AN ANNUAL TRADITION
November and December are fun months at Bainbridge Gardens. One of our favorite fall activities is opening up the wreath rooms for customers. It's fun to see customers create their own wreaths, and we know that a lot of customers enjoy the tradition of making a wreath for their friends and loved ones.
Here is a general synopsis of the wreathmaking procedure:
Make a reservation! Some days, especially on weekends, fill up quickly. Call us to reserve your spot.
Use of the wreath machines is free, but you will be required to purchase a metal wreath ring that fits our machines.
You may bring your own greens or purchase greens by the pound. We also have an assortment of ribbons and decor to finish your wreath.
Bring your own gloves and pruning shears. And a warm coat. The greenhouses are covered but not heated.
We are a UPS shipping station, so you can also send your wreath to a loved one.
Don't forget, not all wreaths are round! You can also make a straight "wreath" for your mantle or tabletop!
Love a custom wreath but don't have the time?
We also make custom wreaths. You choose the size, types of greens, ribbon, etc.
Custom wreaths typically take 2-3 days, depending on demand.
Ask us about deliveries and shipping.
For more information about wreathmaking and to see photos of the process, click here.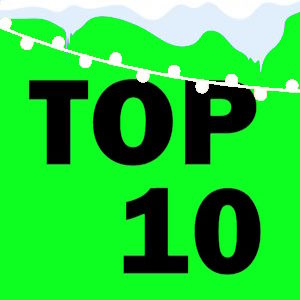 OUR TOP 10 FAVORITE
HOLIDAY GIFTS
If you're looking for a terrific holiday gift, a stocking stuffer, or just a nice card, we can help.
Yes, we have Christmas trees (cut and live), indoor and outdoor plants, gardening tools, garden-themed toys, and holiday decor for your tree and table. But how to narrow down the choices?
Start here: the following list is our Top 10 gift list for this year:
1. Mushrooms and Gnomes. We can't fully explain it, but mushroom and gnome-related gifts are super popular this year. Come see what the fuss is all about.
2. Custom Wreaths. A holiday wreath is a nice gift, but it's even better if you make it yourself. Our wreath machines are available for you to create your own wreath (it takes up to two hours). Or you can have us create a base wreath (just the greens) and you can bling it up with your own decor and ribbon. Or have us create a wreath to your specifications. Come in and we'll talk about it. And don't forget, "wreaths" don't have to be round.
3. Northwest Flower & Garden Show Tickets. Tickets are available at the counter. The Garden Show is well-timed -- typically after a gray and wet period -- to get you in the mood for spring. This year, you can also order tickets online. Use this link
4. Lighting. Not only are there new holiday light options this year (check out the light "sticks" that sit in pots), but personal houseplant lights are very popular. And necessary on these dark and gloomy days.
5. A Pot of Color. As the days get a little darker, it's nice to give a pop of bright colors and textures. Right now, we have pansies, cyclamen, wintergreen, heather, and other flowers and ground covers that look good in a pot.
6. Really good tools. If your recipient doesn't have a Hori Hori knife, you should add one to your holiday short list. We have a number of high quality pruners and Japanese tools.
7. Local Gifts. We like gifts that support local businesses or have a good story behind them. Several of the items in the column to the right are from local Washington businesses. And we have other local products in store.
8. The Poinsettia. Yes, poinsettias are somewhat old school, but bright red colors are irresistible during the holiday season. Also, poinsettias nowadays come in a lot of other colors and a lot of different leaf shapes.
9. Amaryllis kits. Another classic gift, but still a great one. The payoff when your recipient gets a beautiful bloom is the reason that this continues to be so popular.
10. Gift Card. Yes, if you still can't decide, a Bainbridge Gardens gift card is always a welcome gift or stocking stuffer. You can purchase one at the store or give us a call and we'll send it or hold it at the store. (Mailed gift cards must be purchased no later than 12/20 to ensure it reaches a local address.)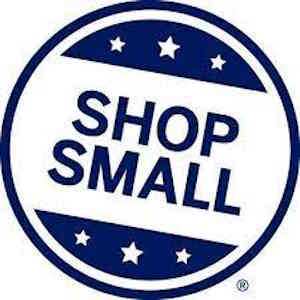 HELP US
HELP SMALL BUSINESSES
Thank you for shopping at our small business.
We realize that it's easy to go online and load up your shopping cart with gifts. But we are grateful that you contribute to a healthy economy by spreading out your purchases and helping some of the little guys.
Here are a few of the companies we highlight this year:
Anchored Northwest is a Spokane-based candled company that started as a hobby and well, the rest is history. Anchored makes a collection of popular candle scents with whimsical names like Mistletoe Kisses and Christmas Cottage.

Emerald Sweets is a Chehalis-based candy company that provides the ever-popular stocking stuffer, the candy cane cocoa.

The Neighborgoods started as a way to gift printed towels to friends. Now it's a much bigger outfit (but still small) and they are responsible for some of the fun towel sets we have here.

Soak Bath Co is a woman owned soap company based in Manitoba. Their soaps are all handmade and have labels that are actually plantable!

Home By Faith specializes fun plant-oriented stickers and creations.

SAFETY POLICIES AT BAINBRIDGE GARDENS
Face masks are optional throughout the nursery. We ask that if you are feeling ill and cannot wear a mask, please stay home and call us to arrange a contact-free delivery or curbside pickup. We continue to accept orders over the phone or by emailing us, but please note that these orders take 24-48 hours to fulfill.
Bainbridge Gardens is...
...a family-owned garden center located on a historic site on beautiful Bainbridge Island. Our six-acre nursery is well-stocked with large trees, native plants, unusual varieties of shrubs, bonsai, seasonal color, pots and garden art. We also have one of best selections of houseplants in the area. With plenty of parking and an extensive gift shop, Bainbridge Gardens is a popular spot for Islanders and out-of-town guests.